The Community College Handbook for Sustainability Education and Operations is a practical reso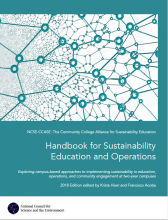 urce for sustainability education and operations at America's two-year colleges. These reports are intended for community college faculty, administrators, staff, students, and community partners.
This iterative handbook provides examples of real sustainability strategies and initiatives across specific topics that have been implemented at community colleges across the United States. The intent is to provide straightforward information and ideas that can be directly replicated or customized by any college employee at their institution, and to invite campuses to submit their own case studies and participate in a dialogue about effective practices. 
Completed chapters can be accessed below. If you would like a PDF of the full handbook, please contact Krista Hiser, GCSE Senior Fellow for Community Colleges.  
Share Your Innovation in Sustainability 
If you and your community college are leading innovation in teaching or practicing sustainability, please consider submitting your project, program, or innovation in practice. With sustainability practices and innovations growing at a rapid pace, the communication of best practices and lessons learned is essential.
Completed Chapters
Title 

Authors

2020 Edition Introduction: Community Colleges Responding to the Climate Crisis 
(2020)
Krista Hiser, Editor; GCSE Senior Fellow for Community Colleges

Campus as Living Learning Lab: Best Practices in Applied Sustainability Learning on Campus 
(2019, updated 2020)

Lead Author: Maria Boccalandro, Ph.D., Cedar Valley College, TX

Contributing Authors: Brandon Morton, North Lake College, TX; Jerry Owens and Sonia Ford, Richland College, TX

Workforce and Business Education for Sustainability at Community Colleges
(2020)
Lead Author: Chris G. Beehner, Seminole State College of Florida, FL

Sustainability and Campus Operations: Being a Model for the Community
(2019)

Lead Author: Stephen Summers, Seminole State College of Florida, FL

Sustainability Curriculum: Three Models for Transformation
(2019)

Lead Author: Nancy Lee Wood, Bristol Community College, MA

Contributing Authors: Jon Bjornson, James Corven, and Robert Rak, Bristol Community College, MA

Building an Ecosystem of Effective Institutional Partnerships 
(2019)

Lead Author: J. Keith Baker, North Lake College, TX

Contributing Author: Robert Rak, Bristol Community College, MA

Assessing Sustainability: Everything Matters
(2019)
Francisco Acoba and Robert Franco, Kapi'olani Community College, HI
Professional Development of Faculty for Sustainability Across the
Curriculum
(2019)

Lead Author: Stephenie Presseller, Moraine Valley Community College, IL

Contributing Author: Steve Brown, Cedar Valley Community College, TX

What's Unique about Community Colleges and Sustainability?
(2019)

Resham Shirsat, Valencia College, FL

Krista Hiser, Kapi'olani Community College, HI
Forthcoming Chapters
Urban Food Systems at Community Colleges

Sustainability Administration Models for Community Colleges