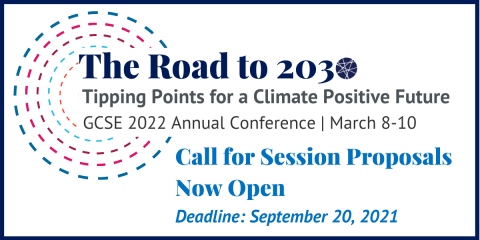 Mounting scientific evidence that catastrophic climate tipping points are an inevitable part of a warming future does little to dispel a gloom and doom narrative for climate change. But a growing body of scientific research is developing a more hopeful counternarrative, one in which linked policy actions promote behavior and market changes, which in turn, help to jumpstart the same kinds of rapid changes that promote the recovery of natural systems and reverse the impacts of global warming. 
GCSE invites you to explore these "positive tipping cascades'' at the 2022 Annual Conference. These scenarios outline conditions where thresholds and tipping points accelerate a transition to a climate positive future, one that includes just and equitable access to resources and representation, and deliberate action to regenerate human and social systems, providing additional benefit to people and the planet. Learn more.
GCSE seeks proposals for panel sessions, five-minute flash talks, and poster presentations.
Deadline to submit a proposal: September 20, 2021 at 11:59 p.m. ET
Key Dates and Deadlines
June 24, 2021: Call for Sessions Proposals and Call for Reviewers open
September 20, 2021: Call for Session Proposals and Call for Reviewers close
October 4–18, 2021: Review period
Mid-November: Submission acceptance emails sent
Mid-November: Conference registration opens
Priority Focus Areas at GCSE 2022
Submissions should fit broadly into one or more of the following focus areas:
Physical thresholds in climate systems
Weather

Water, ice, and permafrost

Deforestation

Biodiversity

Governance that connects systems, harnessing tipping points for positive change; avoiding negative transitions
Thresholds in coupled social-ecological-technological systems
Food systems

Energy systems

Water

Multilateral governance and local solutions

Thresholds for behavior change
Resilience and Tradeoffs
Green infrastructure

Health and environment linkages

Post-pandemic recovery
Climate Positive Technology and Innovation
Energy, waste and transportation.

Incorporating climate positive engineering in college campuses

Innovation in nuclear energy

Technology and transitions
Disproportionality
Underserved populations

Frontline communities

Climate justice and vulnerability
Targets and Timelines
SDGs - 2030 and beyond

Stockholm +50, 2022

Warming targets and the Paris Climate Agreement
Session Types
Panel Session

:
This is the standard breakout session format. Panel sessions should be focused on topics and projects with a broad appeal and relevance to the conference theme.

GCSE recommends including a moderator and three presenters representing a variety of topics and organizations.

There will be opportunities for live Q&A with conference attendees.
Five-Minute Flash Talk

:
A flash talk is a five minute presentation that is designed to quickly engage the audience on a novel concept or idea.

Flash talk presentations may have one presenter using a single visual slide, and will include opportunities for live Q&A. Up to 8 authors may be listed and recognized in the program.
Poster Presentation

:
A poster presentation is a visual representation of an author's research using graphs, photos, diagrams, and a small amount of text in a virtual poster format.

Poster presentations may include up to three presenters and will include opportunities for live Q&A. Up to 8 authors may be listed and recognized in the program.

Student poster presenters will have the opportunity to present during a dedicated student poster session.
Proposal Review
GCSE is accepting proposals for panel sessions, five-minute flash talks, and poster presentations. Sessions proposals will be peer reviewed and evaluated based on the following criteria:
Merit and clarity of the full length abstract (limited to 2,000 characters, including spaces).

Completeness of the proposal, particularly having well-developed content and sufficient presenters to address all relevant aspects of the topic.

Complete and diverse list of presenters.
Presenter Policies 
To ensure a successful conference, all session participants must follow the conference policies and procedures. Please make sure that all session participants associated with your proposal are aware of these policies and that all authors have approved this submission.
If accepted, all presenters participating in the GCSE 2022 Annual Conference are expected to register and pay the appropriate registration fee. Please note that all presenters receive a 20% discount on their registration fee. Presenters are also encouraged to request a full or partial scholarship if needed.
Presenters should notify GCSE at least 24 hours in advance of their presentation if they will be unable to present for any reason.
If your proposal is accepted, GCSE has permission to publish your final submission materials in digital and hardcopy format with proper credit to the authors.
GCSE 2022 is a virtual conference. To ensure that all interested presenters have the opportunity to present, please contact GCSE if you are unable to provide the necessary technology. GCSE will work with you to explore support possibilities.
GCSE will provide all presenters with presentation training and resources to produce high-quality, engaging presentations in the virtual format.
If your presentation is drawing heavily on another source, it is your responsibility to seek permission from the original source to use the material. Be sure to cite the original source in any pictures, charts, graphs, etc., used in your presentation.
It is the policy of GCSE to hold events where physical and communication barriers do not exclude people with disabilities from attending and participating. The GCSE team will work with you to ensure that your presentation is accessible to all.
For questions regarding the submission process, please contact conference@gcseglobal.org.