Have you wondered what is the most important thing you can do to fight climate change? Dr. Katharine Hayhoe, an atmospheric scientist in the Department of Political Science at Texas Tech University, has the answer—talk about it. In fact, Dr. Hayhoe has an entire TED Talk that encourages each of us to go out and have conversations to engage and inspire audiences. These discussions can then lead to hope and action.
But one doesn't have to be a Ph.D. scientist to realize the importance of communicating science. Take the three undergraduate students from Penn State Brandywine that were at the NCSE 2020 Annual Conference in Washington, D.C. A year ago, they had never heard of the field of science communication, much less considered themselves as science communicators. But for these students majoring in food science (Anna Nguyen), psychology (Alsatia Haas-Tome), and international policy (Dallas Barber), just a brief introduction and opportunity to learn and share science has opened their eyes, their minds, and their hearts to science-informed environmental decision-making.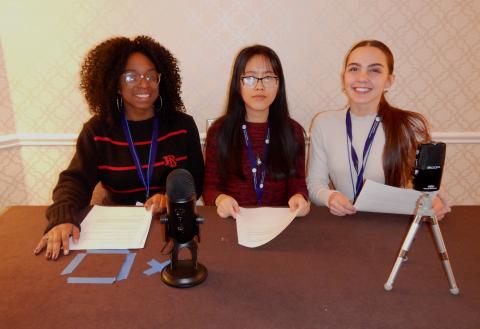 These students will tell you that learning science was the easy part. For Anna, she participated in the 2019 Penn State Drawdown Research Experience for Undergraduates (REU) program the summer after her freshman year. She researched efforts in the state of Pennsylvania to reverse global warming that align with the Drawdown solutions. Sophomore Alsatia and freshman Dallas were enrolled in a course that addressed climate change and its future impacts. The challenging part was moving the students from just consumers of knowledge to producers of consumable science content, a skill that is typically not introduced or developed in an introductory-level science course.
To students, their education and practice of communicating science is traditionally accomplished through writing papers or laboratory reports. Communicating science through storytelling and for audiences outside of their classroom walls is a different approach. Having students do "something" with the knowledge they learn engages them more in the content, demonstrates to them the relevance of what they are learning, and builds their confidence. Even for students just starting out in college, they know enough science to make a difference. In the words of Dallas, "Even people who aren't experts, like us, can share with the world the information we comprehend and present it in our own words."
Although students and scientists alike have read and told stories their entire lives, crafting a science story requires some thoughtful preparation. Who is the audience for the story? What is their prior knowledge? What do they care about? What is the outcome or action you would like them to take? Having these pieces identified ahead of time provides the material necessary to frame the communication. Templates such as Randy Olson's And-But-Therefore (from his book Houston: We Have a Narrative) and the COMPASS Message Box are valuable tools in crafting a science narrative for a target audience.
What is the correct medium of delivery for a science story? These Penn State Brandywine students chose podcasting as their communication tool, tapping into the rising popularity of audio-only delivery and consumption of information. Data from the Edison Research Podcast Consumer 2018 report and the Pew Research Center's Audio Podcasting Fact Sheet both show an increase in the growth over the last decade of podcasting audiences. A 2019 CBS News Poll reports that podcast listening has increased in all age categories, with the largest increase in younger adults, and only 18 percent of adults having never listened to podcasts. However, despite an exponential growth in new science-themed podcast series from 2010–2018, there is still a notable lack of podcasts addressing the fields of chemistry, geology, climate science, engineering, and math (MacKenzie, 2019).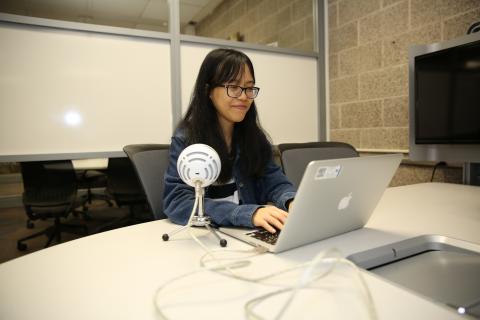 Alsatia, Anna, and Dallas were determined to spend their time at NCSE 2020 not just to listen and to learn, but to help facilitate others in using their voices to share their own knowledge, thoughts, and perspectives on science-informed environmental policy. Armed with a microphone and headphones, the team interviewed students, faculty researchers, government employees, policy makers, youth climate activists, and more for a total of 23 conversations. These conversations were edited and are now part of a mini-podcast series they titled "Voices of NCSE 2020." The resulting twenty episodes capture meeting highlights, research spotlights, and reflections from members of NCSE's Board of Directors.
Although the NCSE 2020 Annual Conference has concluded, the science communication journey of this dynamic trio is not ending. According to Dallas, "Communicating science is vital now. And we can communicate with more than just podcasts, we can present science and policy through visual art, video making, music, dance, the news, social media and so much more." Clearly, the students have more to say, and ideas of more ways to reach an even wider audience.
Listen to the Podcast Series:
Voices of NCSE 2020