Catastrophic impacts of climate change are setting the stage for a global diaspora from low-lying or otherwise climate-threatened areas to safer regions. The public dialogue and media around this imminent risk to frontline communities from climate change has rightfully focused on the movement of communities of people. The gradual loss of land also impacts other systems imperative to a functioning, safe and productive society: agriculture; infrastructure; commerce; industry; culture, etc. Relocation-- no matter how well-designed-- tears the social fabric of a nation as people are forced to abandon their assets, their ancestral lands, and traditional livelihoods.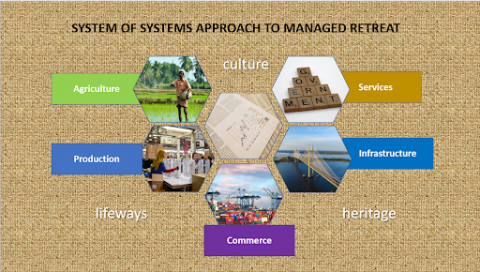 It also requires balancing the needs of migrating frontline communities with those communities who are "receiving" and seeking a way to integrate them.  While some communities look to shoreline stabilization, others envisioning the long-term threat are planning wholesale moves.  The governments of Indonesia and Fiji, which are respectively relocating the nation's capital and offering "climate refuge" to another nation (Kiribati), are the climate migration vanguards that bear close observation.
And as climate shocks present a long-term threat that is also increasing over time, there is also the challenge of how to finance managed retreat in a sustainable way. There is a clear need for committed and predictable financing to support adaptation through managed retreat that allows communities in toto to plan and deliver managed retreat strategies. As communities must have the ability to respond to acute shocks that may occur (e.g., flood or windstorm), we will explore ways to make adaptation financing more risk-sensitive.
We recognize that the solutions for communities with communally-owned land that are reliant on subsistence farming or fishing will differ from waterfront planned residential communities and port cities whose income streams rely on functioning infrastructure and business that can thrive. Our objective is to find the "through-lines" and commonalities across these disparate environments in an effort to accelerate and disseminate "lessons in progress" as well as "lessons learned," whether through data exchange, collaborative research, convenings, or policy development.  Additionally, by having an established community in place, as knowledge and understanding as well as best practices grow, so can the depth and reach of the work of a dedicated Learning Collaborative.
System-specific solutions may be successful as stop-gaps however the urgency posed by climate change requires a reimagining of the solution space across different yet inextricably related systems e.g., social, cultural, physical, etc.  Our vision is to explore the pathways of systemic institutional change from local to global scales through this Learning Collaborative. Truly disruptive innovation arises at the intersection of disciplines, cultures, and ideas. We seek to build new relationships and collaborations across systems and sectors to advance actionable knowledge for decision-making; it is our aim to  provide a platform for knowledge exchange ranging from science to actions to policies.