NCSE prepared a policy paper to assess WHO's current role in response to the COVID-19 pandemic to provide policymakers and the public with an objective appraisal of WHO's outreach activities and ongoing interactions with representatives of member states, the news media, civil society organizations, and the public. This essay provides a brief overview. The full paper is available here.
---
 Where Are We Now?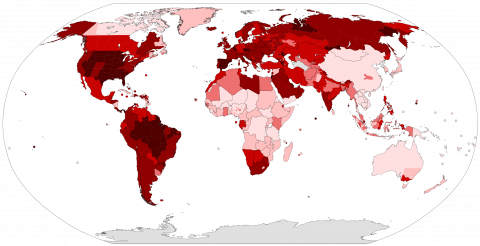 Almost a year after the first COVID-19 cases were identified in Wuhan, China, the novel coronavirus-based pandemic continues to devastate millions of lives and livelihoods around the world. Globally, the pandemic has thus far resulted in over 50 million cases and 1.2 million deaths. In the United States alone, some 10 million cases have presently been reported, including nearly 240,000 fatalities. In the midst of this global crisis, the World Health Organization (WHO) has come under scrutiny for its response to the COVID-19 pandemic, attracting praise as well as criticism. The United States' decision to withdraw from the organization has further stoked the controversy presently surrounding WHO. 
Founded in 1948, WHO was established as the successor to a century-long legacy of international health cooperation. Created as a coordinating authority on international health work, WHO enjoys an expansive constitutional mandate and far-reaching powers under international law. As a multilateral agency, WHO is unique among stakeholders in global health in that it wields the authority to promulgate both binding as well as non-binding agreements. The International Health Regulations (IHR) serve as a particularly noteworthy example of a binding agreement made by WHO, and have presently been accepted by 196 member countries. The IHR specify the process by which WHO may formally declare a Public Health Emergency of International Concern (PHEIC). This agreement played a crucial role in directing WHO's initial response to the COVID-19 outbreak in Wuhan, China.
Where Did the Initial Outbreak Begin?
It is believed that "patient zero" in the coronavirus outbreak was a resident of Wuhan – a large city in Hubei province in China – who began experiencing symptoms on December 1, 2019, and was hospitalized around December 16. It was not until December 27, however, that abnormalities in other hospital patients' CT scans were reported to local authorities. Thereafter, on December 31, the Wuhan Municipal Health Commission posted a public notice regarding 27 cases of pneumonia of "unknown cause" on its website.
WHO's China country office got wind of the local health commission's notice, and promptly issued requests for additional information the next day (January 1, 2020). After receiving preliminary information from local authorities, WHO conducted an independent field visit to Wuhan on January 20 and 21, 2020. On January 30, 2020, WHO's Director-General, Dr. Tedros Adhanom Ghebreyesus, declared the coronavirus outbreak a global public health emergency (PHEIC), which authorized WHO to issue recommendations for member countries to follow.
WHO's Overall Role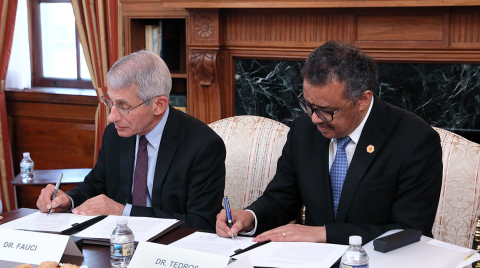 It appears that WHO played a critically important, though imperfect, role in responding to the initial outbreak of COVID-19 in Wuhan, China. Under the IHR, member countries are required to report potential PHEICs occurring in their territories within 24 hours following initial detection. 
Historically, however, countries have been reluctant to comply with the IHR's reporting requirement, partly because it might expose them to unwanted economic sanctions. Chinese authorities faced this dilemma as they mulled over the question of spotlighting the potentially grave public health situation in Wuhan. Against this backdrop, WHO's detection of the local health commission's notice on December 31, 2019, along with its immediate request to gain further information, augmented the strategic situation facing Chinese authorities to encourage disclosure. 
Since late January 2020, WHO's response to the COVID-19 crisis has suffered a number of institutional missteps. The agency came under fire for issuing contradictory statements on precautionary health topics, such as "human-to-human transmissibility" and "asymptomatic spread." It has also been criticized for being slow to adapt its official position on face masks in light of emerging scientific evidence. WHO also arguably erred in choosing to delay formal declaration of a global public health emergency by at least one week. Based on the IHR's guidelines, a strong case can be made that there was sufficient evidence to support making such a declaration at the conclusion of a preliminary meeting on January 23.  
Even after a PHEIC has been officially declared, WHO does not have legal authority to dismiss national sovereignty and compel a country to disclose all relevant information regarding a domestic disease crisis. Faced with this strategic conundrum, WHO has come to embrace "softer" forms of diplomacy as a more viable means of extracting vital information from national governments around the globe.
For all of its institutional successes and shortfalls, WHO nonetheless continues to contribute powerfully and positively to the pandemic response effort. To date, the organization has raised over $200 million through its Solidarity Response Fund to combat the COVID-19 crisis, and has otherwise shipped millions of items of personal protective equipment (PPE) to healthcare personnel in over 100 countries. WHO has also exercised its norm-creating power to provide member countries with comprehensive guidance documentation on the pandemic. It has additionally played a significant role in coordinating the global search for vaccines and other medical treatments. 
In sum, even though WHO's response to the pandemic has fallen short of perfection, the agency has at all times played a necessary and vital role in the battle against the COVID-19 pandemic.
For more information: