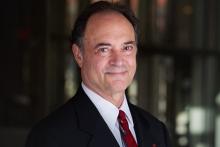 Gil Latz is vice provost for global strategies and international affairs and professor of  geography, The Ohio State University. This appointment includes serving as President, Ohio  State Global Gateway Network, overseeing offices in Shanghai, Mumbai and Sao Paulo. 
Latz is broadly interested in the internationalization of higher education in the United States  and Asia. His research career has focused on comparative study of regional development and  resource management policy in East Asia, North America and Europe. His currently researches  the role played by philanthropy and civic leadership in Japan's modernization process. 
Latz holds a BA (1974) from Occidental College, majoring in Religious Studies and English  Literature. He earned graduate degrees (MA (1978); PhD (1985) in geography from the  University of Chicago. He was a graduate research student at the University of Tokyo as part  of his dissertation field work on 20th century agricultural development policy (1980-84). In  2001-02, he was a Fulbright research affiliated scholar at the University of Florence studying  the conservation of cultural landscapes. 
Latz's national leadership includes service as: president, Association of International  Education Administrators (2015-2017); senior associate for internationalization, American  Council on Education (2016- ); and advisory board member, US-Japan Higher Education  Engagement Study (2019-21).