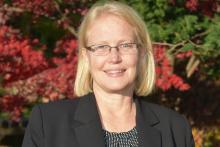 Joanie Mahoney is President of The State University of New York College of Environmental Science and Forestry (SUNY-ESF) in Syracuse, New York, USA, a position she has held since November, 2020.  
Previously, Joanie served 11 years as County Executive for Onondaga County where she oversaw all aspects of county government which served 460,000 residents. During her tenure as County Executive, Joanie earned national recognition for her environmentally friendly stewardship. 
Prior to elective office, Joanie worked as an attorney both in private practice with the Harris Beach law firm and for 5 years as a criminal prosecutor in the Onondaga County District Attorney's Office.
Joanie received her B.S. from Syracuse University's School of Management in 1987 and then her Juris Doctor from S.U.'s College of Law in 1990.