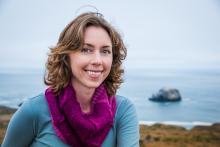 Supervisor Lynda Hopkins is in her second term representing the geographically vast and economically diverse Fifth District of Sonoma County.  Her District includes the entire Sonoma County coastline, the lower Russian River, many unincorporated rural villages, the city of Sebastopol, and the Southwestern portion of the city of Santa Rosa.  

Lynda's interest in public policy and land use began while attending Stanford University, where she studied interdisciplinary environmental sciences through the Earth Systems (BS, MS) Program. Her course of study included research on the coastal zone, mass transit, climate impacts to coral reefs, and how to more effectively communicate scientific principles with the broader public.  She also received a Bachelor of Arts degree in creative writing, which led to her work as a journalist focused on local government.
After earning her Master's from Stanford, Lynda and her husband Emmett moved to his childhood home in Sonoma County. The couple put down roots together by starting Foggy River Farm, a diversified organic farm, on the Hopkins family property.
Lynda is a passionate advocate for data-driven climate policy, affordable housing, coastal access for all Californians, social justice, and early childhood education.  In addition to serving as a Supervisor and Director of the Sonoma County Water Agency, she serves on the Board of Sonoma Clean Power, the Northern Sonoma County Air Pollution Control District, the Russian River Watershed Association, and the North Coast Resource Partnership.