The National University of Singapore (NUS) is a new member of GCSE. NUS is committed to protecting the environment and incorporating sustainability in all aspects of our campus life – from research to education to campus operations.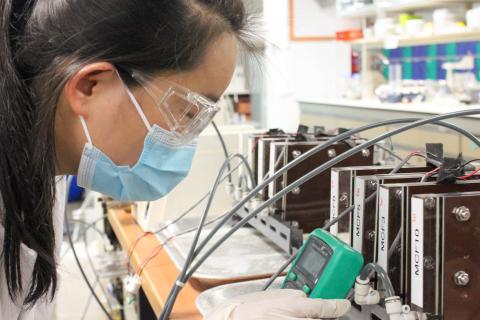 In research, the university has adopted an integrated approach that brings together researchers from diverse fields with an emphasis on eight research clusters, of which Integrative Sustainability Solutions is one. This cluster conducts research that is optimized for tropical, urban and Asian settings. The NUS Environmental Research Institute (NERI) is a key research institute that focuses on developing solutions relating to environmental surveillance and treatment; environmental and human health; green chemistry and sustainable energy; impact of climate change on the environment and food, energy and water nexus in urban farming. It collaborates actively with government, industry, NGOs and leading academic partners to address global climate challenges.
In education, NUS offers specialized sustainability-related degree programmes at the undergraduate and postgraduate levels, programmes at residential colleges and short courses. Sustainability-related degree programmes include the Bachelor of Environmental Studies, Bachelor, Master and Ph.D. in Environmental Engineering, and the Master of Science in Environmental Management programme, a multi-disciplinary integrated programme hosted by the School of Design and Environment, and taught by faculty members from eight other NUS schools including business, law, science and public policy, amongst others. In addition, NUS' newest Residential College, Ridge View Residential College, offers a two-year living-learning experience with a focus on industry readiness and sustainability. 
In campus operations, the campus masterplan is developed to meet academic, research, entrepreneurial, and student life needs, and to incorporate environmental sustainability considerations. Notable infrastructural highlights include:
University Town, a mixed-use residential, sports, educational and research development, which is a sustainably designed, built and operated precinct, and which retains much of its original lush tropical terrain. It was awarded Singapore's 1st Green Mark district.
SDE 4, Singapore's first purpose-built net-zero energy building which is designed to be climate responsive, energy efficient and environmentally friendly, and only consume as much energy as it creates. It is the first university building in the world to achieve WELL Certified™ Gold in 2019, and the first building in Singapore to be conferred this prestigious WELL Certification.
NUS is also embarking on its journey to become Carbon Neutral by 2030 by deploying more renewable energy, actively reducing energy consumption and improving energy efficiency, as well as exploring carbon sequestration and carbon offset options. It also endeavors to cool its ambient temperature by 4 degrees celsius by 2030 ("Cool NUS"), as part of its broader Sustainability and Climate Action strategy.
Fun Fact : Did you know that NUS has completed planting 10,000 trees on campus, and will be planting another 100,000 more by 2030 ?