Florida Agricultural and Mechanical University (FAMU) is a public, land grant institution and Historically Black College or University (HBCU) located in Tallahassee, Florida, USA. FAMU holds a deep commitment to its mission to "enhance the lives of its constituents and empower communities through innovative teaching, research, scholarship, partnerships, and public service." In November 2022, FAMU announced an exciting initiative to support that mission: in partnership with Aura Air, a leading global provider of smart air technology, FAMU established the new Indoor Air Quality ("IAQ") Center of Excellence (COE).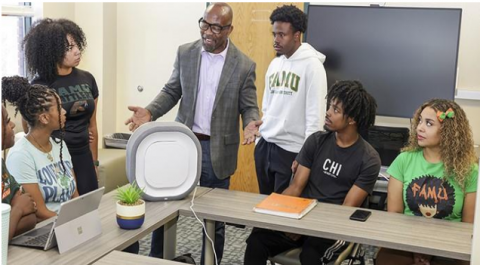 Led by Victor Ibeanusi, Ph.D., dean of FAMU's School of the Environment, the COE will serve as the authoritative center for studying, testing, and analyzing indoor air quality in the State of Florida. 
"Natural disasters are impacting the air we breathe, and the COVID-19 pandemic highlighted the role poorly ventilated spaces play in virus transmission," Ibeanusi said. "We are proud to leverage our world-renowned research facilities, faculty, and student body and join Aura Air in leading the way in IAQ research and education to improve the health of Florida residents." 
The partnership combines FAMU's prestigious science and environment faculty and programs with the technical know-how and innovation from Aura Air. Through the COE, FAMU, and Aura Air will address the growing risks of polluted and poorly ventilated indoor spaces and climate-related changes to IAQ on Floridians.  
As the only Historically Black College or University (HBCU) with a comprehensive engineering college, FAMU is well-positioned to collaborate with Aura Air on IAQ research and development, as well as to address real-world consequences.  
"We share a similar vision and commitment to education to drive change and to create the next generation of air quality professionals. Together, we can serve as a model for other research institutions and communities to develop their own COEs to increase awareness of the importance of air monitoring and purification," said Roei Friedberg, CEO of Aura Air Americas. 
The COE for IAQ will recommend methods and technology to effectively improve indoor air quality with active air monitoring, filtering, and ventilation. The Center will house IAQ-related studies and serve as an education hub to support a statewide IAQ program. Research is already underway at the COE with several Aura Air devices in place on FAMU campus. The COE for IAQ demonstrates FAMU's high capacity for connecting quality science to decision-making, while providing first-rate teaching and learning experiences for students, faculty, and the wider community.