Franklin & Marshall College (F&M) is a liberal arts college in Lancaster, Pennsylvania with a student population of 2000. Founded in 1787, F&M has a long tradition in the sciences, government, and public policy. At F&M, a strong emphasis is placed on student development and community impact. Students have the opportunity to deeply engage in these fields through hands-on, interdisciplinary learning experiences. Students have interned at US EPA, NOAA, and numerous NGOs such as the Chesapeake Bay Foundation. F&M's Department of Earth and Environment has also regularly brought groups of 10-20 students to attend the Annual GCSE Conferences in Washington, DC since 2002.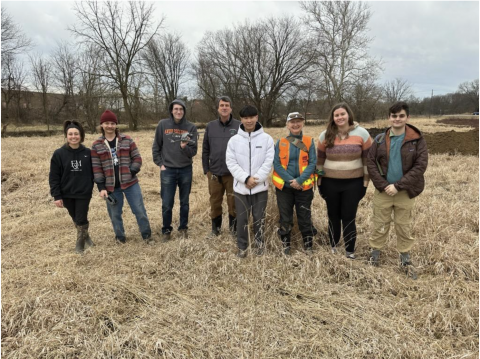 Closer to home, Department of Earth and Environment (ENE) students in their senior seminar worked in concert with the Office of City Planning in Lancaster City Government, to help complete the first citywide audit of carbon emissions in the state of Pennsylvania. This was a necessary prerequisite for the Chief City Planner, Douglas Smith (a 2007 ENE graduate), to create the carbon reduction plan, targeting 80% reduction in emissions by 2025.
F&M's community impact extends far beyond carbon auditing: a Mellon Foundation grant supports F&M's Center for Sustained Engagement with the City of Lancaster (CSEwL), sponsoring projects from street murals directed by F&M faculty, to stream restoration, to research on sustainable food, composting and urban beekeeping. Thanks to seed grant funding from CSEwL, ENE Prof. Eve Bratman established the Lancaster Compost Co-Op, an initiative led by volunteers that supports community-wide composting in Lancaster. 
F&M's campus also features a Center for the Sustainable Environment, which serves as a hub for sustainable programs and activities. The Center has a green roof, native plant gardens, and acts as home for the student Environmental Action Alliance and Campus Sustainability Committee.  The Center also lends camping and hiking equipment for frequent student excursions, e.g. to Hawk Mountain Sanctuary or to the Appalachian Trail. Beyond the Center, the campus features a bike share program with numerous bike stations for use by any member of the F&M community.
Did you know?
65% students at F&M engage in research or one-on-one educational experiences under the guidance of a faculty mentor.