Harvey Mudd College recognizes sustainability as one of this century's biggest challenges and is committed to seeking new ways to address climate change and to reducing its impact on the environment.
The centerpiece of Harvey Mudd's sustainability effort is the Hixon Center for Climate and the Environment, a locus for new climate studies courses as well as other curricular, co-curricular, and research endeavors at Harvey Mudd and the Claremont College consortium. 
Since 2008, when Harvey Mudd President Maria Klawe signed the Presidents' Climate Commitment, the College has implemented many programs and initiatives to reduce its carbon footprint and overall energy use, including constructing new campus buildings that meet the U.S. Green Building Council's LEED Silver standard (or equivalent), using electric vehicles, increasing employee rideshare, composting on campus, recycling, decreasing water and electrical use, and reducing waste.  Faculty, students, and staff are deeply engaged in creating new academic courses, research projects, and internships in environmental studies and sustainability.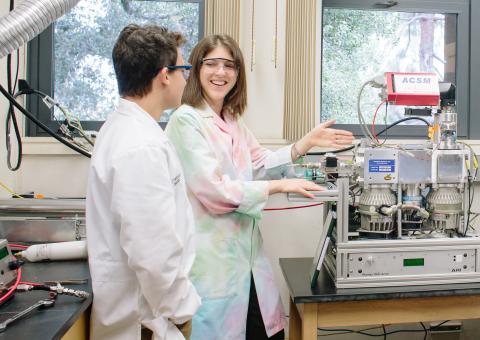 Harvey Mudd's sustainability efforts have included:
Establishing the Hixon Center for Sustainable Environmental Design that provides courses, research, and data gathering on sustainability

Creating an HMC Sustainability Committee 

to establish and implement the College's Sustainability Program

Approving a policy that 

new buildings on campus meet at least the U.S. Green Building Council's LEED Silver standard (or equivalent) and premium-rated or ENERGY STAR-certified products be purchased for use on campus wherever possible

Adopting a College Sustainability Policy Statement

Creating a Green Fund for new Facilities and Maintenance projects that increase sustainability (two recent projects included a campus-wide LEED retrofit project and a Smart Lab project)

Implementing many programs and efforts to reduce energy use, increase rideshare, reduce waste, compost on campus and create new courses, research projects and internships in environmental studies and sustainability

Submitting the college's first-ever STARS Report (Sustainability, Tracking, Assessment and Rating System) to AASHE, and being rated STARS Bronze, thus achieving a STARS rating for the first time in college history.

Replacing turf with low water consumption landscaping

Building a solar photovoltaic cell carport which supplies around 10% of the College's power needs

Installing new dual port EV charging stations

Installed ceramic window film tint to Sprague Library and Platt Campus Center exterior windows to reduce the building energy consumption of the HVAC system
Did You Know?
In 2015, Harvey Mudd created the Green Fund, which provides financial support for improvements to the campus that support the College's sustainability efforts while reaping financial benefits over time.