Fifty years ago, Indiana University's O'Neill School of Public and Environmental Affairs was founded as the first school of its kind, combining public policy, management, and administration with environmental science. Through an explicitly international mission, the school, which was named after Paul H. O'Neill in 2019, sought to prepare students for public service in an increasingly complex and interconnected global society. From the start, the O'Neill School focused on applied problem solving, assembling teams to tackle pressing issues from water quality management to the impact of deregulation. The school developed strong and lasting partnerships with public agencies at all levels of government ensuring its interdisciplinary research led to real-world solutions.
Today, the O'Neill School is a world leader in public and environmental affairs and is consistently ranked in the top tier of programs in the environment. We offer multiple undergraduate, master's, and doctoral programs in environmental science, management, and sustainability — including a top-ranked MPA specialty in environmental policy and management, an innovative one-year master's program in environmental sustainability, and opportunities to specialize in pressing environmental science topics like conservation, water resources, energy, or environmental chemistry.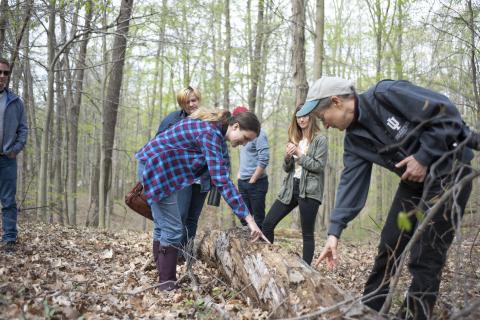 The O'Neill School's graduate building is LEED Gold certified. In addition to state-of-the-art laboratory space on campus, O'Neill students have opportunities for hands-on scientific exploration through the field labs, campus farm, and more than 1,600 acres of protected wood- and wet-lands that make up IU's Research and Teaching Preserve. All of these resources and experiences prepare our students to go out and lead informed environmental decision making in the real world. We have a broad and extensive range of alumni who are making a direct and positive impact on the environment today including an Environmental Protection Specialist with the U.S Environmental Protection Agency, a Landscape Conservation Design Specialist with the U.S. Fish and Wildlife Service, an Environmental Quality Analyst for the State of Michigan, a Policy Regulatory Planner for the Midcontinent Independent System Operator, an Ecologist Coordinator for the Arkansas Department of Agriculture, Natural Resources Division, a Wetlands Project Manager for Indiana Department of Environmental Management, a Wetlands Specialist with Burns & McDonnell, a Park Ranger with the National Parks Service, and many, many more.
Did you know?
Among the many O'Neill scholars who have made a profound and lasting impact on global environmental affairs are Professors Lynton K. Caldwell (1913-2006) and Elinor Ostrom (1933-2012). Caldwell, the principal architect of the National Environmental Policy Act, inspired more than 100 similar laws throughout the world. Ostrom's research on the governance of common-pool natural resources such as forests and fisheries earned the Nobel Prize in Economics in 2009. Many O'Neill faculty members continue her research mission through the Ostrom Workshop, which also honors her late husband and colleague, Vincent Ostrom.