The Interamerican University of Puerto Rico (IAUPR) has a long history of serving its community. Founded in 1912, the Interamerican University has been instrumental in addressing societal needs in Puerto Rico, especially in service professions such as education, social work, and health.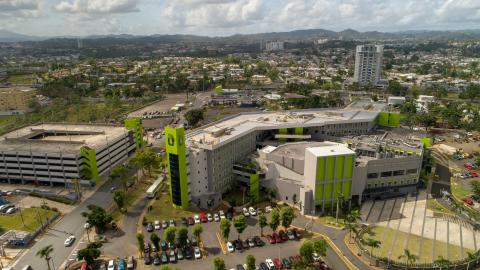 The Metro Campus (MC), established in the 1960s, is found in Puerto Rico's capital city of San Juan, with a mission to serve students from diverse cultural and national backgrounds with an education geared toward the development of leaders and entrepreneurs who are committed to making significant contributions to society. These contributions are based on the values of service, democracy, and the reaffirmation of Interamerican University of Puerto Rico's character as an institution with Christian roots and an ecumenical focus. 
As an institution interested in the wellbeing of society, in 1993 the IAUPR established Center of Environmental Education, Conservation, and Interpretation (CECIA) for integrating environmental issues into higher education. Through CECIA, IAUPR develops social responsibility and critical skills in citizens to make informed environmental decisions. The flagship projects of CECIA are: EPA - Enhancing Partnership for Addressing Multimedia Environmental Risks in Poor Rural Communities of Puerto Rico and the Integrative Program to Develop Environmental Interpreters and Citizen Environmental Ambassadors. For the past 20 years, CECIA has partnered with state, federal and non-for-profit organizations to provide educational, outreach, and technical services and support. CECIA has positively impacted over 100,000 students from pre-K to the university level, as well as the public through these efforts.
Supporting Energy Justice
Economic crisis and the recent climate change events have placed a severe strain on the already fragile electrical system of Puerto Rico. The disastrous response has further burdened low income and disadvantaged communities' energy needs.  Therefore, to address and strengthen energy resources in our communities, IAUPR has partnered with the Instituto de Competitividad y Sostenibilidad Economica de Puerto Rico (ICSE-PR), for developing activities and educational resources aimed at promoting energy conservation, efficient use, independent production, and energy management. To support energy justice, the partnership has embarked on a campaign to educate the public about Law 17 of 2019, which seeks to apply justice principles of efficiency, quality, continuity, adaptability, impartiality, solidarity, and equity to address energy policy in Puerto Rico. In the last year, CECIA at Metro Campus has collaborated in energy justice symposiums and forums providing essential educational materials to students and faculty from underserved communities about energy laws, regulations, and justice in Puerto Rico. 
Did you know: CECIA at IAUPR's Metro Campus has received the Tree Campus award from the Arbor Day Foundation for 10 consecutive years for student and faculty efforts to reduce, recycle, reuse, and  maintain habitats for fauna and flora. Efforts include fostering the campus as a biodiversity hotspot, and creating an urban garden where students develop entrepreneurship and leadership skills.