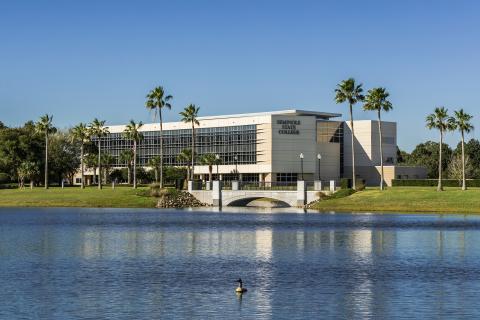 Seminole State College of Florida is a full-service education provider within the Central Florida community, offering a wide range of two-year college-credit degrees, bachelor's degrees, career and technical certificates, adult education, and professional educator preparation. Seminole State College has been an NCSE Member for seven years and has contributed to the Community College Handbook for Sustainability Education and Operations.
Global sociocultural responsibility is considered a key learning outcome at Seminole State College, and the institution has taken many efforts to introduce sustainability across the curriculum. Among these programs, Seminole State offers a unique multidisciplinary Sustainability Certificate, with course options available to first- and second-year undergraduates in fields as diverse as renewable energy, green building, alternative fuels, sustainable business, and environmental policy. Students pursuing degrees in engineering technology may seek a specialization in sustainable engineering, while business graduates may now complete an additional Certificate of Professional Preparation in Sustainability Management. Founded on relationships made through NCSE and supported through generous grants, an ongoing travel study program for women in STEM, Sustainability Studies in the New Mexico High Desert, is also offered at Seminole State.
Seminole State College continues to seek opportunities to improve the sustainability of its operations and to promote the long-term social, economic, and environmental wellness of the college and the community. Seminole State's newly established collegewide Sustainability Committee has been tasked with articulating a new vision for sustainability at the institution and for developing the College's first ever comprehensive Sustainability Plan.
Did You Know? Last year Seminole State College's sustainability program launched an exciting partnership with the Center for Fine & Performing Arts. Technical theatre students enrolled in a special topics course on Green Theatre & Sustainable Design. In tandem, the College hosted its Fix It Up! Art & Repair Fair, a community event that featured multiple workshops, a Student Recycled Art Show, a panel discussion on green theatre in Central Florida, and a guest lecture on future prospects for a circular economy.