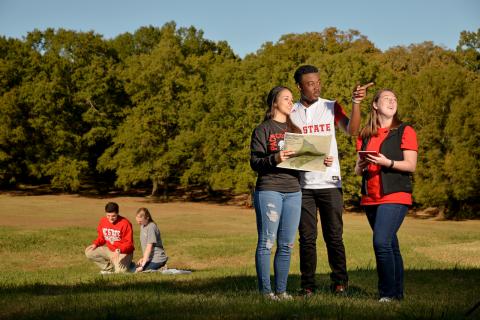 North Carolina State University (NC State) in Raleigh, North Carolina, has been an NCSE Member for 12 years. NC State believes that successful sustainability pursues balanced, ethical solutions that are economically viable, environmentally sound, and socially just. Ranked as fourth in the nation for the study of natural resources and conservation (College Factual, 2021), NC State's College of Natural Resources graduates students equipped to be environmental stewards and leaders in natural resources. Across its broad array of undergraduate and graduate programs, the College provides the technical expertise and hands-on experience students need to shape environmental policies, manage wildlife, implement sustainable forest and land management techniques, engineer everyday products from renewable resources, create sustainable recreation and tourism programs, and more.
The College's award-winning research faculty work across disciplines to find innovative solutions to global environmental challenges and partner with industry and government to put solutions to work. Through outreach, extension and continuing education, experts team with community and business leaders, policymakers, educators, students and members of the general public to spread knowledge and ensure sustainable and proper use of natural resources.
As the host university for the Southeast Climate Adaptation Science Center, NC State brings together a breadth of expertise and capacity in natural, physical and social sciences as well as the management of natural and cultural resources. As part of the center, College of Natural Resources faculty gather scientific information and build the tools needed to help fish, wildlife, and ecosystems adapt to the impacts of changing climate and land use.
The NC State Center for Geospatial Analytics, housed in the College of Natural Resources, is the foremost interdisciplinary research and teaching center of its kind in the nation. Center faculty work alongside top researchers, policy experts and leaders in industry to apply data-driven spatial modeling and cutting-edge visualization to pioneer solutions to environmental and societal changes.
Did You Know? NC State is a Top 20 Green College for sustainability-related policies, practices, and programs (Princeton Review, 2019).