The State University of New York (SUNY) College of Environmental Science and Forestry (ESF) is dedicated to the study of the environment, developing renewable technologies, and building a sustainable and resilient future through design, policy, and management of the environment and natural resources. ESF has a passion for protecting the health of the planet and a deep commitment to the rigorous application of science to improve the way humans interact with the world. They work to address the Earth's most pressing problems and students come here because they want to be part of the solution.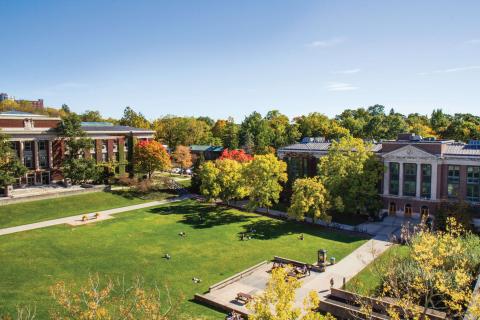 Research at ESF is remarkably diverse with contributions informing the management, design, structure and function of ecosystems and the relationships between people and nature including in the fields of aquatic ecosystems, bioenergy, biotechnology, biodiversity, ecology, genetic engineering, nanotechnology, remote sensing, wildlife disease prevention, environmental policy, and many others. ESF is a leader in integrating the energy and excitement of research with the formal requirements of degree and certificate programs. A high percentage of undergraduates and virtually all graduate students participate in research activity as part of their educational experience. Students live, study, and conduct research on the main campus in Syracuse, N.Y., and on 25,000 acres of field stations in a variety of ecosystems across New York State. 
Sustainability is central to ESF's mission of providing unique and impactful teaching, research, engagement and action-oriented programs that foster sustainable communities and environments. ESF fosters an environment that empowers members of the campus community to take individual actions to spark necessary change, but more importantly, they prioritize creating the ability to work toward large-scale, social change. This system change is needed so we may collectively work to improve our world to meet the needs of current and future generations. 
ESF's Sustainability Ambassadors program invites a designee from each office, division, or department to spend a few hours of (paid!) time each month serving as their group's sustainability educator and point person. The goal of the program is to facilitate sustainable practices on campus through faculty and staff peer-to-peer education and action.