The University of California, Davis, and the College of Agricultural and Environmental Sciences (CA&ES) have helped shape California and the world in monumental ways for more than 100 years. The university is dedicated to solving critical issues surrounding food, water, energy, climate change, conservation and human health.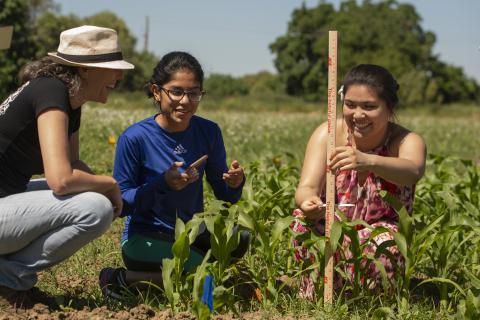 UC Davis offers more than 100 majors; within CA&ES that includes 29 undergraduate majors and 23 graduate degree programs focused on agriculture, the environment and human sciences. 
The campus encompasses more than 5,000 acres with 2,300 acres of land dedicated to agricultural research and teaching on a variety of topics, including animal science, plant breeding, agricultural engineering and other subjects. Those lands are home to greenhouses, avian facilities, cattle operations, farms and animal barns. 
Research out of the college has led to disease-resistant strawberries, a better understanding of grapevine diseases and techniques to reduce agricultural emissions. Recent research has shown how the buoyancy of water vapor influences low altitude cloud formation and climate in coastal areas. Other research projects include using seaweed and other food additives to reduce cattle methane emissions and developing a new form of cooling cubes that don't melt and can prevent cross-contamination, while reducing water use. The college holds 305 active U.S. patents. 
The university is home to dozens of centers, institutes and facilities with aims to make the world safer for a growing population. That includes the Tahoe Environmental Research Center, Bodega Marine Laboratory and Agricultural Sustainability Institute.
In addition, a new $40 million center for agricultural innovation will focus on agricultural and environmental sustainability. An additional $10 million in grants will be available for research into reducing crop waste, increasing water efficiency, developing new technologies, expanding access to nutritious food and making crops more resilient and sustainable in a changing climate.
The campus is nationally recognized as No. 1 in agriculture, plant sciences, animal science, veterinary medicine, biological and agricultural engineering and agricultural economics and policy. It is ranked among the top ten in agronomy, biodiversity education, ecology, entomology, environmental sciences, horticulture, nutrition, soil science and toxicology. 
Did you know?
CA&ES houses several museums, including the Museum of Wildlife and Fish Biology, with thousands of unique specimens, such as a California condor, platypus and other animals. The R. M. Bohart Museum of Entomology is home to more than 7 million specimens and is the seventh largest insect collection in North America.