The University of California San Diego has been a member of GCSE for 13 years. Established in 1960, UC San Diego has been shaped by exceptional scholars who aren't afraid to push boundaries, challenge expectations, and redefine conventional wisdom in order to make our world better, including pioneers of climate change research like Roger Revelle and geochemist Charles David Keeling of the Keeling Curve. UC San Diego has built upon that visionary legacy to become a leader in sustainable solutions.
To do this, UC San Diego has established and acknowledges a set of Principles of Sustainability. These principles guide sustainability efforts across the ten campuses and other university facilities in ten areas of sustainable practice: climate protection, clean energy, green building, transportation, sustainable operations, waste reduction and recycling, sustainable procurement, sustainable foodservice, sustainable water systems, and standards for UC Health.
Sustainability highlights include: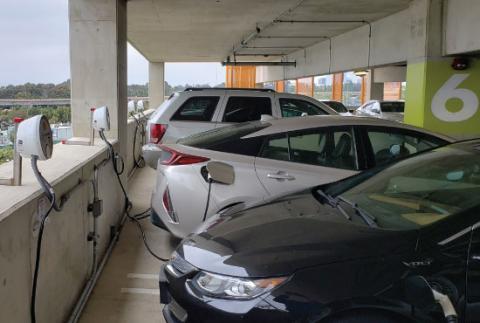 At the end of 2020, our campus had 250 electric vehicle charging stations powered by renewable energy that serve commuters, the general public, and travelers. Over the past four years, UC San Diego has become San Diego County's largest multipurpose hub of EV charging plazas by delivering 2.5 GWH to more than 5,500 unique drivers.

Housing*Dining*Hospitality launched the Triton2Go Mobile Ordering App and Reusable Container Program, which replaced the use of 75,000 disposable containers during Fall Quarter 2020

UC San Diego Fleet Services maintained a 70% or better sustainable vehicle fleet for the past three years and was recognized 15th greenest fleet by 100th Best Fleets Government Fleet Awards.

A new on-campus residential area opened Fall Quarter 2020 and the neighborhood is expected to become the fifth LEED Platinum project on campus. The project received a 10th Annual Sustainable Innovation Award from the USGBC LA Chapter.

The campus reduced total water consumption by approximately 110,000,000 gallons (17% reduction) compared to the previous year.

UC San Diego's Green Labs program helps laboratories reduce their environmental footprint without compromising research or safety.

UC San Diego has signed

the American College and University Presidents Climate Commitment

and is committed to reaching carbon neutrality.
You can read more highlights on our sustainability website.
Did you know?
In May 2021, UC San Diego earned its fourth Association for the Advancement of Sustainability in Higher Education STARS Gold rating in recognition of its sustainability achievements. Only 170 colleges and universities worldwide have this distinction.