Since 1791, the University of Vermont (UVM) has worked to move humankind forward. Today, UVM is a top research university situated in the vibrant Green Mountain State. Students' educational experience and activities are enriched by location — benefiting from the energy and innovation of Burlington and the proximity of forests, farms, mountains, and waterways of Vermont.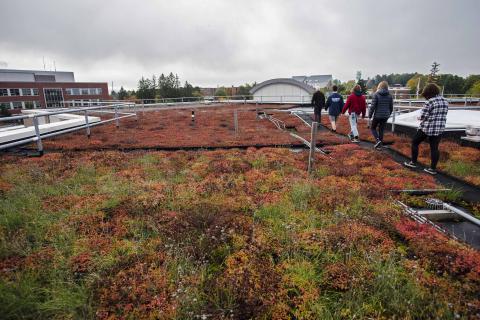 The study of the environment is a cornerstone of UVM, with undergraduate programs offered in five different schools and colleges and more than 20 graduate degree programs offered across a range of environmental fields. For over 50 years the university has been fostering interdisciplinary studies in environmental sciences; forestry; sustainability; food systems; wildlife and fisheries biology; ecological economics; environmental policy and law; parks, recreation, and tourism; geology; environmental leadership; and more. 
UVM's environmental programs emphasize hands-on learning through field work, internships, and student research. They also examine issues holistically, looking at the social structures that influence how people interact with the environment. The Rubenstein School of Environment and Natural Resources is home to many of UVM's environmental programs. Its curriculum centers environmental justice and sets out to graduate leaders dedicated to a more sustainable and equitable future. 
Driven by the belief that research should inspire action, UVM launched the Gund Institute for Environment to mobilize scholars and decision makers to understand and tackle the world's most critical environmental challenges. Through partnerships with government, business, and NGOs, the Institute takes an integrated approach to developing solutions for people and nature. For example, UVM partnerships with USDA and USAID inform conservation-related decisions throughout federal government. 
Globally, Gund Institute researchers lead studies with the International Platform on Biodiversity and Ecosystem Services and conduct research with partners in other countries to bring science to bear on public decision making, shaping policy dialogues from the UN to international agroecology networks. With over 250 scholars in Vermont and across the world, the Institute brings together a network of recognized researchers from diverse disciplines, seeking to match the urgency of our environmental challenges with bold action.
Did you know?
The University of Vermont owns and manages 10 natural areas, 4 research forests, an ecosystem science laboratory and hybrid-electric research vessel on Lake Champlain, and a research outpost on the top of Mt. Mansfield – the tallest mountain in the state.