We are pleased to announce the winners of the 2020 NCSE Colors of Science Art Contest.
This year, artists from around the world sent more than 100 submissions across three categories: Photography, Painting, and Other Media. They demonstrated through their works some of the many ways we can experience the Earth in a new way through both art and science. From climate change to biodiversity to water quality, the artists offered creative perspectives of our fields that we hope will inspire you as we work together to solve some of our world's most pressing challenges.
This year's first place winners are John Pickering for "How many species do you see?" in the Photography category, Ashley Cecil for "Broken Waters" in the Painting category, and Katie St. Clair for "Wayside: Melting Ice Spheres" in the Other Media category. All of the contest winners will be recognized live at the NCSE Drawdown 2021 Conference in January, where we will come together virtually to exchange "science and solutions for a planet under pressure."
---
First Place Winners
Photography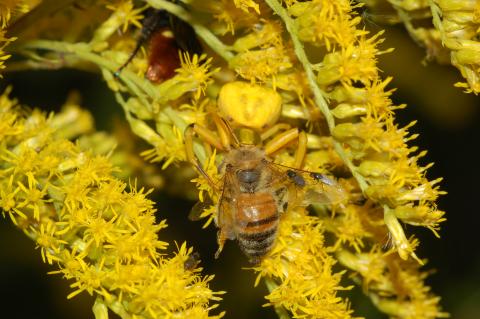 Painting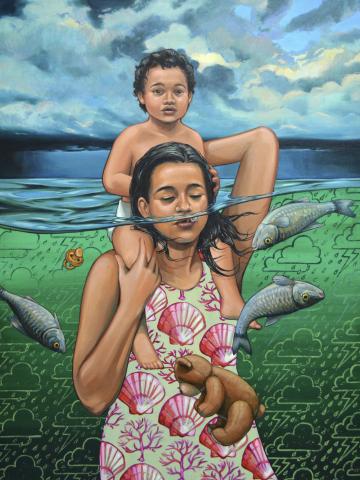 Other Media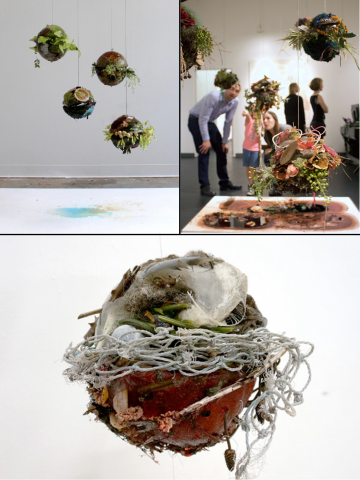 "How many species do you see?"
John Pickering, Biologist, Discover Life, Athens, GA, U.S.
Photograph captured in Southeast Clarke Park, Athens, GA, U.S.
"The wondrous diversity of life around us. Can you find 6 species and 10 individuals in this image? What are they doing?"
"

Broken Waters"
Ashley Cecil, Artist, Pittsburgh, PA, U.S.
Acrylic and oil on canvas
"A reflection on years of collaborations with scientists and my resulting fears of what a world of rising seas and contaminated water means for my children."
"Wayside: Melting Ice Spheres"
Katie St. Clair, Assistant Professor of Art, Davidson College, Davidson, NC, U.S.  
Exhibit in Burren, Ireland, created using natural debris, trash, pigment and ice on canvas (8" ice sphere.)   
"The wayside installation is a set spheres of made of locally collected refuse and natural pigment that is held together by ice. The full frozen spheres are hung above a canvas and melt over time. As the spheres melt jagged objects come to the surface, some balance and others fall onto the wet canvas. Eventually the water and pigment settle into large pools on the canvas that evaporate over time, leaving an inky crust of marks that result in a painting."
Second Place Winners
Photography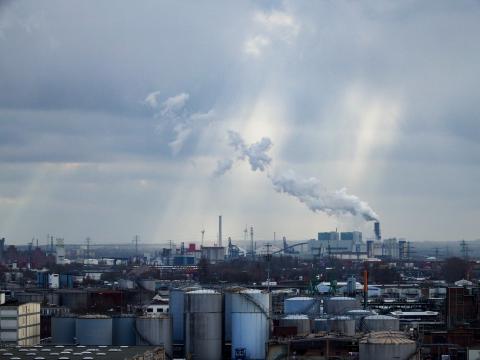 Painting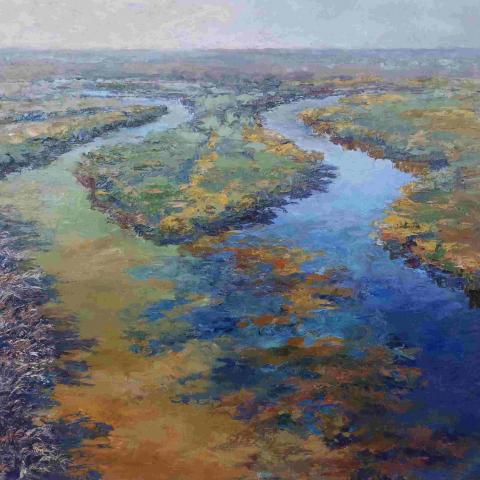 Other Media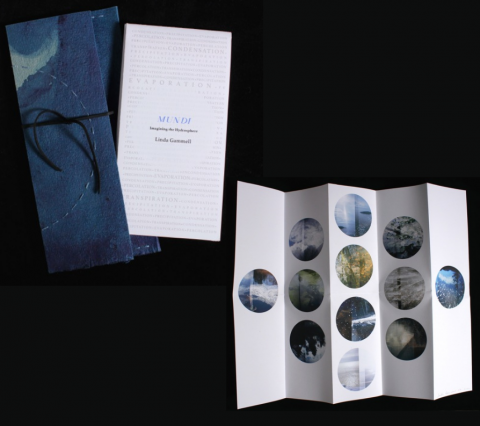 "Port of Hamburg"
Lauren McLaughlin, Student, North Carolina State University, Raleigh, NC, U.S.
Photograph captured in Hamburg, Germany.    
"The windmills are a small part of this picture, and of our energy production. The pollution, sun rays, and green energy reflect human-environment interactions."
"Mixing of Waters"
Greg Lecker, Artist and Naturalist, Minneapolis, MN, U.S.
Oil painting on canvas 
"Lessons in fluid flow and geography: stormwater runoff reveals invisible eddy currents at the confluence of the cloudy Minnesota and clearer Mississippi River."
MUNDI:Imagining the Hydrosphere

"
Linda Gammell, Artist, St. Paul, MN, U.S. 
Artist book, photography, ink jet print, handmade paper, text, linen thread.
"'Mundi: Imagining the Hydrosphere' is a limited edition artist's book that pays homage to deep engagement in both science and art with imagination and with the quality of wonder for our physical world. In this book the hydrological cycle is referenced in a map-like form with twelve watery photographic spheres, images made during the year in wetlands, lakes, rivers in atmospheric states of ice, streaming and rushing water, fog, and clouds, in a configuration that suggests views of earth from space."
Third Place
Photography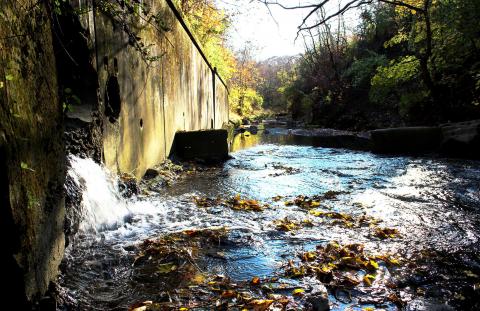 Painting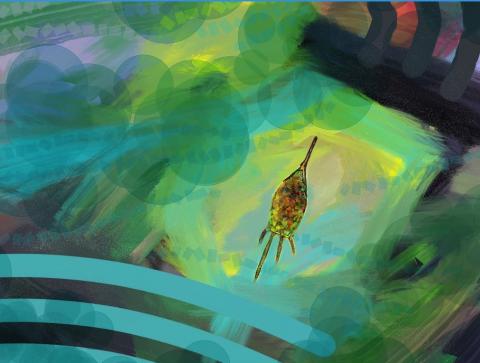 Other Media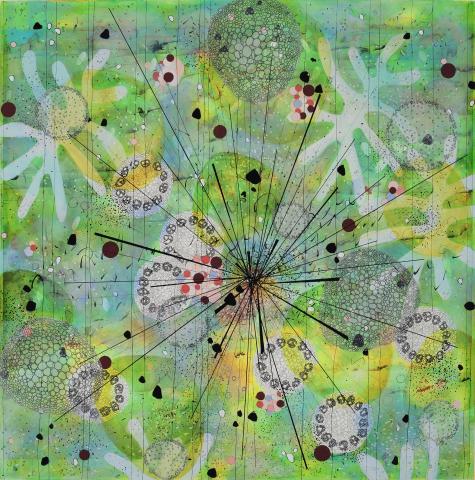 "Over the Overflow"
Valentina Ortiz de Zarate, Student, Carnegie Mellon University, Pittsburgh, PA, U.S.
Photograph captured in Frick Park, Pittsburgh, PA, U.S.   
"Pittsburgh is a city that suffers from combined sewage overflow, where sewage combines with runoff to overwhelm the city pipes and flow into the waterways."
"Vorticella Plankton Painting"  
Alicia Leeke, Resident Artist, University of South Carolina, SC, U.S.   
Mixed media Painting         
"Underwater worlds correlate to outer space. Stephen Hawking said if humanity is to survive long-term, it must find ways to leave planet Earth."
"Microaquea No.1"
Betsy Stewart, Artist, Washington, D.C., U.S.
Hand-embellished monoprint on canvas     
"In this series I took a detail image from a large "pond-water" piece. I wanted the shapes to be a bit blurred so that I could draw realistically over the surface.  I embedded drawings on Mylar on the surface to achieve further depth, and added the exploding black ink lines."
Fourth Place

  

  

   
Photography
Painting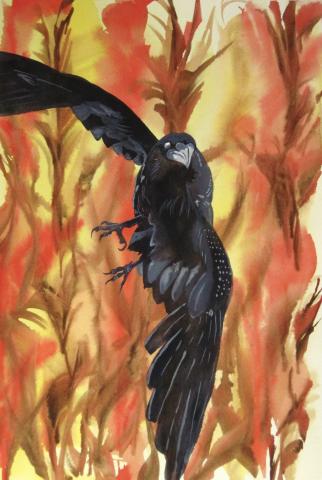 Other Media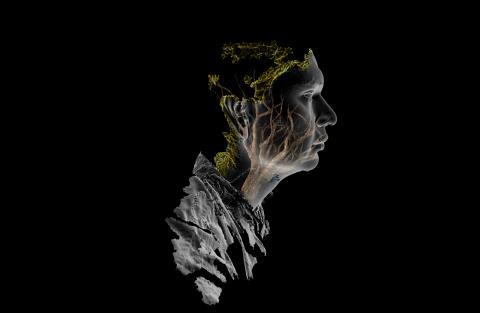 "Fellow Traveler"
Nakisa Abdollahbeigi, Student, University of South Carolina, SC, U.S./Iran  
Photograph captured in Iran.   
"All animals have a share of the earth."
"Inferno (Raven)"   
Dominique Bachelet, Associate Professor, Oregon State University, OR, U.S.
Watercolor
"Don't think of it as the worst fire season ever experienced on the West coast. Think of it as a standard fire season from now on."
"

Symbiotic relationship"
Ana Cecilia Parrodi Anaya, Artist, Puebla, Mexico 
Digital Collage
"My work was inspired by the relationships humans and non-humans have, a symbiotic relationship that is now perishing due to environmental changes."