Long before the COVID-19 pandemic and the most recent governmental and industry targets made around the world to curb greenhouse gas emissions and phase out fossil fuels, universities and research institutes have been steadily leading by example to advance a strong environmental future.
Our Recent Transatlantic Dialogue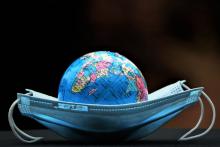 During June 7-9, the Office for Science and Technology of the Embassy of France in the United States, in partnership with the Global Council for Science and Environment (GCSE), led a virtual symposium focused on sharing the work being led by French and American universities and research organizations to lower their environmental and carbon footprints. By highlighting examples from France and the United States, GCSE, and the French Embassy started a global conversation about rethinking research and sustainability in higher education post-pandemic. Please read the full symposium vision and context. 
Recordings of the keynote and panel sessions are now available in this

YouTube Playlist

.
Next Steps- Join the GCSE Community of Practice
The Great Reset in Academic and Research Institutions
The GCSE Community of Practice (CoP), "The Great Reset in Academic and Research Institutions", will serve as a standing mechanism to continue discussions and collaborations among academic and research institutions on the sustained changes brought by the pandemic and the opportunities for a "Great Reset" and opportunities for leadership toward a sustainable future. The CoP is still under design. To indicate your interest in participating, please complete this form. To learn more about GCSE Communities of Practice, explore our website. 
Join the Community of Practice
Who Should Get Involved
Everyone is welcome to join the new community of practice. This free symposium offered an opportunity for students, faculty, and decision-makers to hear from institutional leaders from France and the United States on best practices in sustainability. Institutional leaders will exchange best practices, lessons learned before and during the COVID-19 pandemic, and explored potential opportunities to leverage the value of sharing knowledge. 
Steering Committee Members
Leah G Nichols, George Mason University
Peter Marra, Georgetown University
Maria Petrova, Georgetown University
Benoît Malpaux, Institut national de la recherche agronomique (INRAE)
Nicolas Gratiot, Institut de Recherche pour le Développement (IRD)
Mariane Domeizel, Aix-Marseille Université
Agathe Euzen, Centre National de la Recherche Scientifique (CNRS)
Rubin Patterson, Howard University
Gil Latz, Ohio State University
Laurent-Emmanuel Brizzi, Université de Poitiers
Stéphane Raud, Ambassade de France aux Etats-Unis
Michelle Wyman, Global Council for Science and the Environment (GCSE)
Symposium Partners
Centre National de la Recherche Scientifique (CNRS)
Howard University
Université de Poitiers