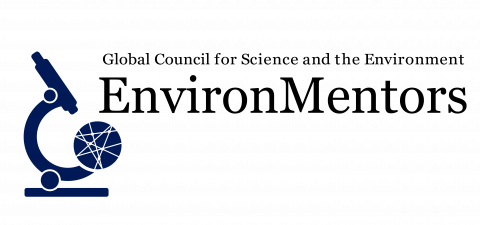 EnvironMentors is a science education and national college access program with a mission to mentor and motivate high school students from communities underrepresented in the sciences as they plan and conduct environmental research and acquire skills that will allow them to build careers and become more active stewards of their communities and the environment.
EnvironMentors chapters are located around the country and are hosted through partnerships with universities and educational based nonprofit organizations. Since 1992, the program has paired over 2,000 high school students with mentors through its network of chapters throughout the country.
Current Chapters
Alabama State University

Chatham University

Future City Inc.
Heritage University
Louisiana State University
The Pennsylvania State University
University of California, Davis
Washington, D.C. EnvironMentors*
Widener University
* GCSE hosts the D.C. EnvironMentors chapter.
EnvironMentors Program
Mentoring: Environmental, natural resource, and science professionals, faculty, and college students volunteer as mentors to high school students. Mentors not only support students in conducting rigorous research projects, but also serve as important role models, motivating students to pursue college degrees and careers in environmental and natural resource fields.
Research projects: With the support of their mentor, students design and conduct an experimental research project based on an environmental topic of their choice. Through the process, students develop critical thinking, analytic, and communication skills vital to their success in college and future careers.
Stewardship: Throughout the EnvironMentors program year, students have multiple opportunities to engage in the local environment, including visits to wildlife refuges, weekend camping trips, habitat restoration or invasive species removal, and water quality sampling.
College preparation: EnvironMentors provides students with a range of college preparation activities, including exposure to a college campus, labs, and library; assistance with college applications and financial aid; and an introduction to environmental and natural resource degree programs.
National Science Fair: Each summer, GCSE hosts the EnvironMentors National Science Fair and Awards Ceremony. Up to three students from each of our EnvironMentors chapters travel to Washington, D.C., to present their research and compete for college scholarships. The National Fair is an opportunity for students to learn more about our nation's capital, to meet fellow EnvironMentors students, and learn the role science plays in environmental decision-making. 
Launch a Chapter
GCSE is always interested in working with organizations that would like to host a new EnvironMentors chapter. We will work with your institution to ensure you are prepared to launch a strong, long-lasting, and sustainable chapter. We especially encourage institutions to apply that meet the following criteria:
Strong commitment to working with high school students in your community

Willing to meet program expectations in one-to-one mentoring, hands-on research, field experiences, and college preparation

Financial commitment to the local chapter's operation

Desire to be part of a national network and community of learning
To learn more about EnvironMentors and how to establish a chapter, please contact STEM Education Advisor Brian Matherne.
Thank You to Our Program Sponsors