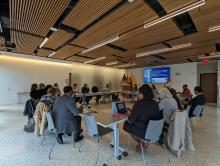 On Friday, February 3, the Global Council for Science and the Environment (GCSE) hosted a briefing and conversation about advancing academic sustainability programs in higher education through its Pathways toward Accreditation for Sustainability initiative. Attendees were professors, advisors, and program directors representing 10 different institutions in and around the Washington, D.C. area. 
Participants united around a common question: how can higher education prepare students to address global environmental and sustainability challenges? Students and employers are interested and excited about sustainability degrees and jobs. Climate anxiety and cognitive dissonance continue to spur a desire to be a part of sustainability solutions, yet when it comes to education and knowledge, it is unclear, still, what measures students must take to follow a path towards sustainability as a profession. 
In considering these questions, Krista Hiser, GCSE Senior Lead and Advisor for Sustainability Education, outlined the proposed goals and program components of an accreditation for academic sustainability programs. Following the briefing, guests shared the hopes, questions, interests and concerns of their institutions and how they might benefit from advancing accreditation in sustainability education. GCSE plans to hold more of these discussions in the months ahead as they are integral to defining the scope, scale, and next steps in the accreditation initiative.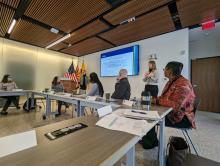 Although defining 'sustainability' is elusive, the group agreed that guiding sustainability program evaluation would require a shared understanding of sustainability and sustainability education. The Pathways toward Accreditation initiative supports the development of eight, interrelated key competencies: systems thinking, futures thinking, values thinking, strategic thinking, inter-personal, intra-personal, integrated problem-solving, and implementation competencies (Brundiers et al, 2021). Convergence around this framework will build a shared reference framework for how to teach sustainability.
If you have questions regarding this event, please reach out to Krista Hiser at krista@gcseglobal.org.