Pathways toward Accreditation for Sustainability and Sustainability-Related Programs, using an approach that centers Justice, Equity, Diversity, Inclusion, and Accessibility. 
In partnership with Arizona State University and support from the Mitchell Foundation, GCSE is exploring accreditation for sustainability and sustainability-related programs in higher education. Learn more about the components of this initiative below. GCSE seeks to convene and connect stakeholders in this work to co-create an accreditation that is flexible and adaptable to a wide range of program types.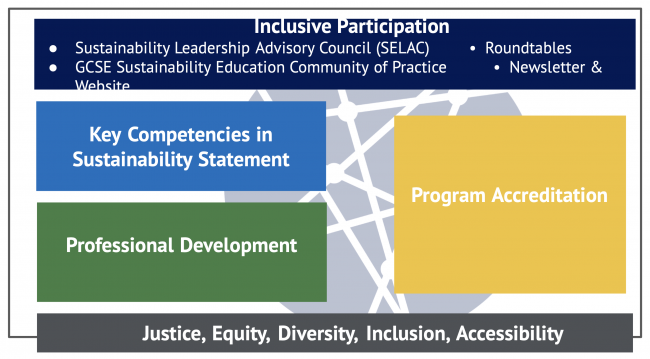 Resources and More Information
If you're interested in getting involved, please complete the survey linked below.
Pathways to Accreditation Interest Form
Upcoming Events
Sustainability Education Community of Practice meeting held virtually November 15, 2022 at 2:00PM ET
Roundtable on Sustainability Workforce Development - Spring 2023, Dates To Be Announced
Past Meetings
GCSE Sustainability Education Community of Practice Roundtable

Held virtually October 18 and 19, 2022

*Repeated twice to accommodate multiple timezones

Dr. Krista Hiser, GCSE's Senior Lead and Advisor for Sustainability Education, facilitated the roundtables, in partnership with scholars Katja Brundiers, Jordan King, Rod Parnell, and Ryan Johnson, who presented four components to the initiative,"Pathways toward Accreditation."

 
For questions, please contact Krista Hiser at krista@gcseglobal.org.