Pathways toward Accreditation for Sustainability and Sustainability-Related Programs using an approach that incorporates Justice, Equity, Diversity, Inclusion, and Accessibility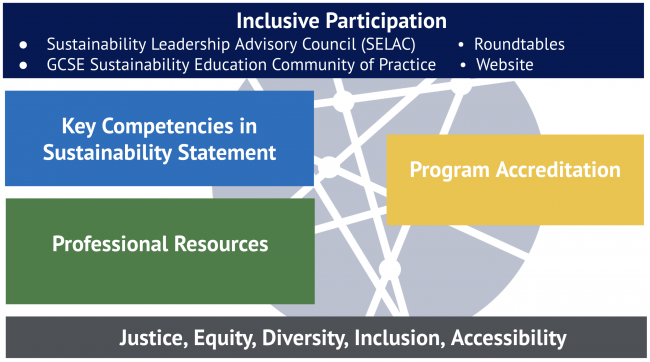 In partnership with Arizona State University and with support from the Mitchell Foundation, GCSE is exploring accreditation for sustainability and sustainability-related programs in higher education. Learn more about the components of this initiative below. GCSE seeks to convene and connect stakeholders in this work to co-create an accreditation that is flexible and adaptable to a wide range of program types.
---
Resources and More Information
If you're interested in getting involved, please complete this form.
For questions, please contact Krista Hiser at krista@gcseglobal.org. 
---
Past Meetings
 

Held virtually September 21

This roundtable centered on student and recent graduate expectations of, experiences with, and recommendations for higher education programs in sustainability and/or environmental studies & sciences. View recording here.

Held virtually June 14, 20, & 26

 

In June 2023, GCSE hosted a series of workshops that gave participants the opportunity to learn about and share best practices in applying the Key Competencies in Sustainability framework into pedagogies, assessments, and different content areas. View more information here. 

GCSE Sustainability Education Community of Practice: Student Research Presentation

Held virtually May 9, 2023

 

Our May 19 Sustainability Education Community of Practice meeting featured a student-led study on sustainability degree programs in higher education in the United States. The review of 100 program websites indicates a lack of consistency in the titles, content, and organization of sustainability programs across colleges and universities. Researchers Harrison Freiman and Patrick Grady, Northeastern University students completing work experiences at GCSE, presented their preliminary findings. Read more about the forthcoming report here.

GCSE Sustainability Education Spring 2023 Roundtable: Workforce Perspectives

Held virtually March 21 and 22, 2023

*Repeated twice to accommodate multiple timezones

On March 21 and 22, GCSE held its second, virtual roundtable discussion on accreditation for sustainability degree programs. The event featured experts and employers from multiple sectors. Together they addressed the core question: 

How do we create alignment between the demand for sustainability professionals and the design of sustainability education programs and their evaluation?

 

GCSE Sustainability Education Fall 2022 Roundtable

Held virtually October 18 and 19, 2022

*Repeated twice to accommodate multiple timezones

Dr. Krista Hiser, GCSE's Senior Lead and Advisor for Sustainability Education, facilitated the roundtables, in partnership with scholars Katja Brundiers, Jordan King, Rod Parnell, and Ryan Johnson, who presented four components to the initiative,"Pathways toward Accreditation."