GCSE Applied Solutions network is co-hosting a Blue Zone pavilion with Sonoma County local government, Sonoma Water and Clean Energy agencies, the Scripps Institution of Oceanography, and The Climate Center.
Throughout COP27, this GCSE Applied Solutions pavilion will serve as a catalyst for discussions on how local governments are implementing evidence-informed climate adaptation and extreme weather resilience projects and initiatives. 
Pavilion Location
The GCSE Applied Solutions pavilion is located in the Blue Zone, Area C and is pavilion number P63.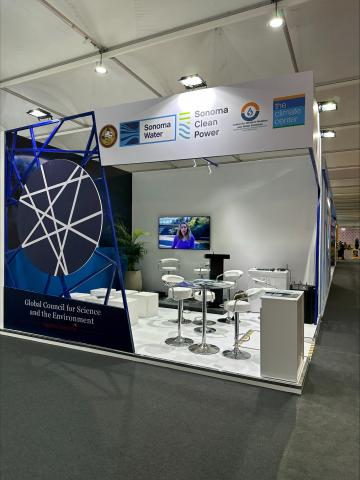 Past Event
California Climate Co

ff

ee
Join The Climate Center & Global Council for Science and the Environment for an informal discussion with California legislators who helped pass a raft of progressive climate legislation and an unprecedented $54 billion in climate funding.
With State Senator John Laird, Chair of the Senate Climate Working Group, and State Senator

Bob Wieckowski
Our Partners
Scripps Institution of Oceanography
For more information about the GCSE Pavilion, please contact Liz Nelson at elizabeth@gcseglobal.org.