NCSE invited the 2019 EnvironMentors National Science Fair winners and chapter leaders to share their experiences and give their perspectives about their time as EnvironMentors.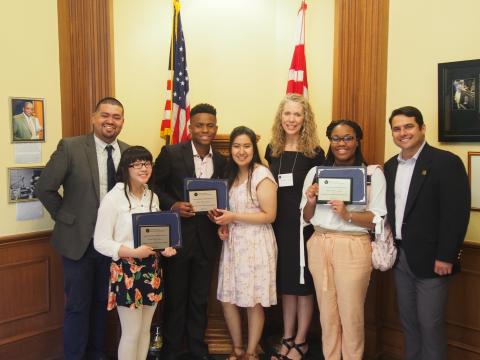 ---
Brian Matherne is the Louisiana State University (LSU) EnvironMentors Chapter coordinator, who has led the program for over three years. His expertise and dedication has made the LSU EnvironMentors program a beacon of modeling best practices and developing the next generation of scientists and science-minded citizens.  
Since taking over as the Louisiana State University (LSU) EnvironMentors coordinator in 2016, I have worked with 25 fantastic high school students and 72 exceptional mentors. Whether discussing local environmental issues, providing guidance on effective science communication, or consulting with mentors on an experimental design, I am able to live my passion for science and teaching. The interdisciplinary nature of environmental science allows our program to expose young people to a wide array of career pathways in STEM, law, and public service. Reinforcing the connection between science and policy is critical when molding our future scientists and leaders.
Researchers at the LSU College of the Coast and Environment are passionately working to turn back our state from the precipice and fight for a resilient future. Many of these same scientists use their zeal to foster a sense of environmental stewardship in the students we work with. Underserved populations, like those reached by our EnvironMentors chapter, are often most vulnerable to the impacts of environmental stress and industrial pollution. The people of South Louisiana bear witness to the sobering effects of coastal wetland loss, a hypoxic dead zone in the Gulf of Mexico, and the legacy of pollution from an economically vital petrochemical industry.
By visiting coastal restoration sites or examining the effects of poor air quality, we strive to give our students the knowledge to advocate for themselves. As a graduate student, I cannot think of any other assistantship at LSU which provides such a unique opportunity to lead and serve. EnvironMentors has granted me the privilege to work closely with people who genuinely believe in what we are trying to achieve. The efforts of our Dean, Dr. Chris D'Elia, to not only bring the program to LSU but to celebrate the individual achievements of our mentees. Our director, Dr. Linda Hooper-Bùi, who teaches me how to be fierce when fighting for the needs of students. The generous guidance of so many other staff in our College and NCSE allows me to facilitate the success of our chapter members. 
Finally, the teens we mentor motivate me with their desire to overcome adversity and to persevere when faced with challenges. In providing college access, we are encouraging our students to use education to breakdown socioeconomic barriers. A personal connection between mentor and mentee promotes a cross-cultural understanding of both the challenges and opportunities found in our city. In reflection, the most important lesson that I received is that success is not always measurable with metrics and outcomes, but by hearing the personal testimony of the people whose lives have been changed by our efforts.
---
Briana Coleman is a participant from the LSU EnvironMentors Chapter. She has participated in EnvironMentors for four years and recently graduated high school. She placed third at the National Science Fair with her project, "Fish Guts: Microbiome Comparison of Fish and Oysters."
My journey with EnvironMentors started my freshman year of high school. Like any normal teenager, I was trying to seek out my purpose in life and for the first few months of high school, it was difficult. One day, my teacher, Ms. Pamela Francis, shared information about a program that might interest me. She said, "I see great things for you and if you give this program a try you will see." It was EnvironMentors. 
The first year of being an EM student was mind-blowing. It was an outlet to escape the troubles outside of school while working to help support my family, at the time. Just within the first year, I gained more knowledge than I had in school as Ms. Francis had promised, and I began to realize that I could be so much more with life. I was paired with two mentors, Victoria and Elizabeth, for my first year and with their help, my project on food digestion placed second in our local chapter fair and gave me an opportunity to compete at the National Science Fair in Washington, D.C. Unfortunately, I did not place in the fair but nonetheless, the experience made me realize that I had to step up and work even harder. The following year I was mentored by Xia and Ahsennur, who also guided me to the National Fair. However, my project on renewable fuel sources again fell short of placing. Learning from my failure, the experience added to my determination and drive. In my junior year, my mentors Leslie and Maddie helped me take the National Fair by storm. I had a project that focused on raw oysters from local stores testing them in a lab for bacteria that would make people sick. It was my third year back at the National Fair and I finally placed! At that moment the joyful spirit that came over me was like no other and I felt as if I was on top of the world.
Finally, I want to mention my longtime mentor, Brian Matherne. Brian had been working with me as the program coordinator for the past few years. For my senior year, he and Leslie helped me build on my award-winning project from the year before. Brian took my frozen oyster samples and had the bacterial DNA sequenced with fish samples collected from his own research. To complete my project, I had to learn about microbiomes and how to use special computer programs to compare the bacterial communities in different types of fish guts. 
Again, I returned to D.C. to compete and placed one final time! Over the years, the EnvironMentors program has taught me valuable life lessons and I realized I couldn't have done any of this without my mentors, Ms. Francis, and our chapter director, Dr. Bùi. These people have guided me throughout high school and are all still present in my life and that is what makes a difference. They have each supported me beyond my projects. For example, my mentor Leslie worked with me to improve my ACT score and Dr. Bùi helped me with my college application. Some of my mentors have been a shoulder to cry on while others tell jokes needed to brighten my day. Learning from these experiences, I plan to pay it forward so that I can help pave the way for a better future.
---
Anh Vo participated in the University of California, Davis EnvironMentors Chapter. This is her third year with EnvironMentors as a senior in high school and she recently placed second at the National Science Fair with her project, "LegoFog in California."
My project focused on the effect of coastal fog on the growth of strawberries. We used ArcGIS to recreate two 2-D maps of California, based on land cover and elevation classes, which were used to create a topographic map of California. The topographic map of California is made up of over 32,000 Legos and was originally started by Professor Ian Faloona's undergraduate students in 2014. Using the 3-D Lego map and a dry ice fog machine, we were able to model the coastal fog patterns and determine that the growing regions of strawberries geographically overlap with the locations of coastal fog. My favorite part was working with ArcGIS, since it was my first exposure to mapping software, and I hope to carry those skills into the future.
I'm grateful to have also been able to speak to Professor Ian Faloona, whose enthusiasm for atmospheric science felt contagious. This fall, I plan on attending UC Berkeley in the College of Natural Resources, and I'm grateful for my experience in EnvironMentors and the remarkable faculty at UC-Davis, who have helped cultivate my curiosity for research in the realm of environmental science. Ultimately, EnvironMentors has taught me that science is a mode of inquiry and building on knowledge, not just listing conclusions and moving on. In the near future, I hope to continue to actively apply the disciplines I have learned from this program as an undergraduate researcher. 
 
I am especially thankful to our program coordinator, Pia Van Benthem, whose vibrant personality and life stories have given me new life perspectives. Throughout my three years in the program, she has helped me grow, not only as a scientist but also as a person. She has continually reached out to me and helped me overcome my shyness, allowing me to make the most out of my experience. Most importantly, her unerring patience and encouragement has helped me gain confidence and pride in my work: from nervously falling over words and stuttering to speaking confidently about my research. I am grateful to have been able to share my D.C. experience with her.
This year's National Fair in D.C. featured a variety of student projects, representing the diverse environmental issues impacting each student's community. Through interacting with my peers from across the country, I was able to learn about each of their region's own environmental dilemmas. Despite our different environments, what connected us was our shared passion, and I realized how action to preserve our environment is a community issue. A community that is not simply limited to a single county, state, or even nation. It is a community issue that involves all of humanity, for we share a connected humanitarian responsibility to protect our planet.
Ultimately, I gained a greater appreciation for research and the need for scientists in environmental research, because the diversity of issues calls for specialized research projects, targeted to address each community's specific needs. 
---
Natalia Carrasco-Munoz participated in the Pennsylvania State University (PSU) EnvironMentors Chapter, the first year for the chapter there. Natalia and classmate Tyrin-Ian Todd placed first at the National Science Fair with their project, "Particle Matter: The Creation of a Low Cost Sensor Network."
At the start of this school year, I decided that I wanted to take my interest in science to the next level. The environment has always been important to me; as I would watch documentaries about trash in the ocean or about the status of the planet, I was horrified. I never really knew how I could fix it, but I knew that I wanted to. I decided to look into the EnvironMentors program and all I knew going into this program that I wanted to participate in something that could promote change. 
When Dr. Gregory Jenkins gave us a presentation on his research, the idea that I could help millions of people in Africa by creating a low-cost air sensor called to me. It could cause an immediate change in the lives of the people around. I felt myself become excited at the idea, and at that moment I decided that I wanted to work on his project. Dr. Jenkins helped an undergraduate student mentor, Brytanni, and I come up with ideas on how to build the sensor. Ultimately, we wanted to try and make our own system. I, however, did not know how to code and that is when my partner, Ty, came in and helped us out. He basically took all our ideas and helped make them an actual reality. 
I learned a lot of things in the process. Sometimes you don't always know the answer, and you have to try and figure it out for yourself. For us, the system itself was a challenge to make. We started off small. What did we need to make the already working sensors? What did we need to make our own sensors? We took it step by step until we could finally look at the bigger picture. That's something I had never really done. My perspective has always come looking at the bigger picture, and this project really challenged me. Sometimes you don't know what the next step you need to take and It is frustrating. I realized how important coding is too. I had never really thought about it, but I see now how coding really is a way of the future. Along with that, this project has helped me explore one field of science. It has definitely called me to study environmental science and I hope to learn how to code to continue participating in projects that continue to push me past my comfort zone. I have learned to embrace failure...and to push beyond it. That's not something that can ever really be taught in school, where you are pushed to get perfect grades.
Beyond that, the EnvironMentors program allowed me to see more of Washington D.C. It was so much fun to come together as a group and hang around all the museums. I can't thank the EnvironMentors program and NCSE enough for allowing each of us the opportunity to participate. I can't wait to (hopefully) come again in the future. 
---
Tyrin-Ian Todd participated in the Pennsylvania State University (PSU) EnvironMentors Chapter, the first year for the chapter there. Tyrin-Ian and classmate Natalia Carrasco-Munoz placed first at the National Science Fair with their project, "Particle Matter: The Creation of a Low Cost Sensor Network."
This project has not only taught me STEM concepts, but also the lesson that anything is possible if you put your mind to it. I can see myself applying this knowledge in the future. While working on the PM sensor brought many downfalls, every failure taught me more and more about programming, electronics, and what it is like to be an engineer. I learned how to make a webhook and learned about there uses. I also found out how electronics actually communicate and send data. When Dr. Jenkins proposed his idea to create a Low-Cost PM2.5 sensor, I knew right away it was the project I wanted. It was a project that had major implications and would give me the chance to work with both hardware and software. 
Nevertheless, creating the Low-Cost PM 2.5 sensor was the most challenging project I've ever worked on. When I joined the team, I knew right away the strategy I wanted to use to build the sensor. I had previously worked with particle microcontrollers and appreciated the way they integrated cloud functionality in their devices. I am excited to have been provided an opportunity to showcase my skills and my determination to find solutions for a challenging issue really helped me evolve. I look forward to developing my skills in the future and I felt that this program shaped my skills to tackle coding and environmental issues. I really enjoyed my time in the program sharing ideas and getting to know other like-minded students from school. I just want to say thank you to PSU and NCSE for their commitment to our program and us.