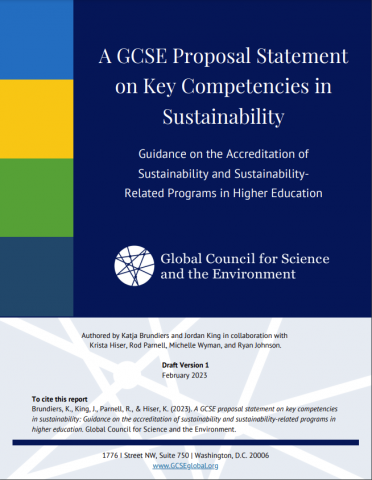 *The input period for the Key Competencies Proposal Statement is now closed. We are synthesizing the input we received in the extended peer review process. Check back in August 2023 for the next iteration of this shared reference framework. 
A background and overview is provided below and an updated Statement on Key Competencies in Sustainability was released on February 21, 2023 as part of a research project exploring use of the key competencies in higher education. View the proposal statement and input process here.
GCSE and the Sustainability Education Community of Practice have undertaken several activities to demonstrate convergence around the key competencies in sustainability. These activities explored convergence: (1) across international initiatives, (2) across experts, and (3) across key stakeholders. 
Convergence across international initiatives
A series of international initiatives from different international contexts with different purposes, audiences, and levels of education were reviewed. This included efforts led by the United Nations Educational, Scientific and Cultural Organization, the European Commission's Joint Research Center, the Australian Council of Environmental Deans and Directors, the Educating Future Change Agents Research Project, and the National Academies of Sciences, Engineering, and Medicine. The initiatives demonstrated convergence on: (1) what the key competencies are, (2) how they are necessarily interrelated, (3) their importance as a reference for learning objectives in the context of sustainability in higher education, (4) the key role of values-thinking competence, and (5) the efficacy of a diverse set of teaching and learning approaches to promote their development.
View the Key Competencies proposal statement
Convergence across experts
An expert-based, international Delphi Study was conducted to examine perspectives on the key competencies. The study found agreement on the key competencies outlined in the framework outlined by Wiek and colleagues. In addition, the study (1) refined the definitions of the competencies and their operationalization at different levels, (2) suggested two additional competencies: implementation competency and intrapersonal competency/mindset, (3) identified values-thinking competency as a lead-competency used to orient both learning and problem-solving related to sustainability and (4) specified additional learning objectives for students interested in a career as a sustainability researcher beyond previous descriptions of objectives for sustainability professionals in general.
Convergence across key stakeholders
A series of presentations and workshops were held to engage with partners and stakeholders to receive feedback on the proposed framework. This included sessions with the following organizations: Association for the Advancement of Sustainability, Sustainability Curriculum Consortium, Association for Environmental Studies and Sciences; National Academies of Science and Engineering, and the Australian Council of Environmental Deans and Directors. Overall, dialogue with key stakeholders indicated agreement on the key competencies and support for a proposal statement to inform the practices of sustainability programs in higher education.
 
Brundiers, K., Barth, M., Cebrián, G. et al. Key competencies in sustainability in higher education—toward an agreed-upon reference framework. Sustain Sci 16, 13–29 (2021). https://doi.org/10.1007/s11625-020-00838-2
Learn more about the Pathways Toward Accreditation initiative here.